Tips For Starting College with Type 1 or Type 2 Diabetes
Embarking on an exciting college adventure can look a little different for individuals managing Type 1 or Type 2 diabetes. There is an additional need for essential accommodations, support systems, and diabetes management strategies tailored to your unique needs. At Sugar Medical we understand the importance of planning ahead and having the right diabetes management supplies to ensure success in this next big phase of life. We would like to share a few insights and tips on navigating college life with diabetes, including the transition to independent diabetes care, creating a diabetes management routine, emergency & safety precaution considerations and recommendations for convenient diabetic supply storage. Living with diabetes does not have to hinder your college experience academically or socially. With a little bit of preparation and the right diabetes accessories, you will thrive academically and socially while managing  your health effectively. 
Transitioning to Independent Diabetes Management
Transitioning to independent diabetes management during college is a significant step, marking the beginning of a new chapter filled with growth and self-discovery. As you bid farewell to the familiar support of your family, taking charge of your daily diabetes care may feel daunting at first. With the right approach and a well rounded schedule, you will adapt into your new routine smoothly. Building confidence in your ability to manage diabetes independently is key to a successful transition. 
To ease the process of transitioning to self-management, maintaining open communication with your healthcare providers is vital. These experts have been an essential part of your diabetes journey, and they'll continue to guide and support you throughout college. Keeping them informed about your plans, challenges, and achievements will enable them to offer tailored advice and assistance whenever needed.
Build a Support Network 
Beyond healthcare professionals, creating a robust support network within your college community can make a world of difference. Seek guidance from college resources, such as health services and counseling centers, which can provide valuable insights and assistance in managing diabetes on campus. Additionally, joining diabetes support groups like The Diabetes Link or connecting with fellow students managing diabetes can foster a sense of camaraderie and understanding. Sharing experiences, exchanging tips, and providing emotional support can help you feel empowered and connected in this shared journey.
Creating a Diabetes Management Routine
Creating a diabetes management routine in college is the foundation for maintaining stability and achieving successful diabetes care amidst the bustling campus life. Consistency is key, as it provides a solid structure for managing diabetes effectively. Start by setting regular meal times, blood sugar checks, and insulin administration to keep your blood sugar levels in check throughout the day. Incorporate physical activity and stress-reduction techniques into your daily routine to enhance your overall well-being and diabetes management.
Meal Planning and Nutrition
When it comes to meal planning and nutrition, making healthy food choices plays a large role in diabetes care. Navigating college dining halls can be overwhelming however utilizing carb counting and portion control will empower you to make balanced meal decisions that align with your diabetes management goals. Consider the benefits of meal prepping and cooking diabetes-friendly meals in your dorm kitchen. By preparing wholesome dishes in advance, you can maintain control over your food choices and ensure that diabetes friendly options are always available.
Quick Diabetes Friendly Snacks to Carry on Campus

Berries
Oranges
Apples
Baby Carrots
Cucumber slices
Celery sticks
Peanut butter single serve tubs
Crackers
Popcorn
Raw nuts 
Meat/jerky sticks 
Dry cereal
Granola bars

Staying Active on Campus
Staying active on campus is an integral part of diabetes management. Explore opportunities for physical activity, whether it's joining sports clubs, fitness classes, or taking advantage of the college gym. Regular exercise not only helps manage blood sugar levels but also contributes to your overall well-being. Integrating exercise into your busy college schedule may require some creativity, but the rewards are well worth the effort. Overcome common barriers such as time constraints or lack of motivation to maintain an active lifestyle that supports your diabetes management goals.
Handling Stress and Mental Health
In the dynamic college environment, stress can impact your blood sugar levels. Addressing stress management is crucial in your diabetes routine. Utilize mindfulness, relaxation exercises, and seek support from mental health resources available on campus. Engage in open conversations about mental health and diabetes with peers, as understanding and empathy create a supportive network for overall well-being.
Remember that consistency, healthy meal choices, staying active, and managing stress are powerful tools in your diabetes care arsenal.
Diabetes Supplies for College
As you navigate a busy college schedule, having a compact diabetes supply kit is a game-changer. Whether you're attending classes, participating in extracurricular activities, or heading out for some fun, a well-packed supply kit ensures you're always prepared for any situation that may arise. There are a few essential diabetes supplies needed for day to day life while you are away at college. 
Many supplies needed for type I and type II diabetes are the same. Some of the supplies that will be different include your type of insulin and your method of receiving the insulin. There are four different types of insulin : short-acting, rapid-acting, intermediate- acting, long & ultra long- acting. Insulin can be received via injections or by an insulin pump. 
Typical Type I & Type II Diabetic Supplies Needed
Insulin

Insulin syringes & pens

Insulin pump (mostly Type 1)

Blood sugar meters

Finger lancets

Diabetic test strips

Glucose meter

Ketone test strips

Glucose tablets & glucagon

Oral diabetes medication

Snacks
Diabetics are tasked with carrying a large amount of supplies with them wherever they go to help manage their diabetes. Diabetic supplies can also take up a decent amount of space in standard bags. Without a good method for organizing and storing diabetes supplies, it can be hard to find necessary items in an emergency and are at risk for being damaged.
Sugar Medical Diabetic Supply Recommendations: 
Sugar Medical products can bring  ease, comfort and style to your college diabetes management routine. Our thoughtful designs and user-friendly features ensure that our products are tailored to meet the needs of college students living with diabetes.
DIABETES INSULATED SLING BACKPACKS
Fully insulated compact design with pocket for ice pack

Holds glucose testing kit, glucagon, pump supplies and snacks

Pockets for keys and phone

Mesh pockets for 16 oz water bottle

Adjustable strap extends from 22"- 44.5" in

11" X 15" X 3"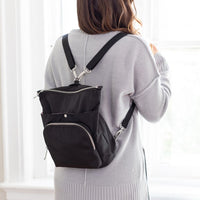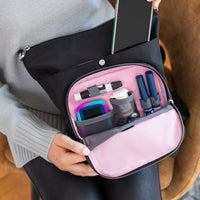 3 ways to wear: Backpack, Shoulder, or Crossbody

Convenient front pockets organize your diabetes supplies

Loops and pockets for glucose meter, test strips, insulin pens, and more

Interior slip pocket for personal items

Includes removable insulated pouch to keep insulin or medications cool (ice pack not included)

Premium hardware and easy glide zippers

Measurements: Backpack 12 x 10 x 5 inches, Removable Pouch measures 8.25 x 4 inches

Made from durable premium nylon, spot clean
DIABETES INSULATED CONVERTIBLE SUPPLY BAG
Roomy, soft sided design with 3 zippered compartments

Large insulated back pocket perfect for keeping insulin cool or can be used to carry larger items like the Dexcom inserter, Medtronic inserter, pump site changes, pods, or personal items like a wallet

Middle compartment unzips to lay completely flat for easy glucose testing

Includes Test Strip Trash Can that holds all those pesky used test strips

Carry as a handheld bag, cross-body or a hands free belt bag

Removable waist belt ranges from 23in to 50in

Room for insulin pens, pump supplies and daily testing supplies

 7" X 4.75" X 2.75"
MEDTRONIC INSULIN PUMP GEL SKIN
SEGAL'S PREMIUM DIABETIC SOCKS
Discover more diabetic insulated supply bags, supply cases, silicone protective covers and accessories with Sugar Medical.
Diabetes Emergencies and Safety Precautions
Understanding how to handle diabetes-related emergencies is essential for staying safe and ensuring timely assistance. One small but life-saving accessory every college student with diabetes should have is a medical ID. Wearing a medical ID provides critical information about your condition to medical professionals during emergencies, helping them make informed decisions quickly. Additionally, carrying emergency contacts at all times ensures that if you need assistance, help is just a phone call away.
Educate your roommates and friends about diabetes emergencies. Familiarizing them with the signs and symptoms of hypo and hyperglycemia empowers them to recognize when you may need help. In times of urgency, their understanding and support can make all the difference.
Most Common College Campus Diabetes Emergencies 
Severe Hypoglycemia (Low Blood Sugar):
A sudden drop in blood sugar levels, resulting in confusion, dizziness, weakness, or loss of consciousness.

Inability to treat low blood sugar due to lack of immediate access to glucose sources.
Diabetic Ketoacidosis (DKA):
A life-threatening condition caused by extremely high blood sugar levels, leading to a build-up of ketones in the blood.

Symptoms may include excessive thirst, frequent urination, nausea, vomiting, abdominal pain, and altered mental state.
Hypoglycemic Unawareness:
Difficulty in recognizing the symptoms of low blood sugar, leading to delayed or inadequate treatment.

Increased risk of severe hypoglycemia and potential loss of consciousness.
Hyperglycemic Hyperosmolar State (HHS):
Similar to DKA, HHS is a severe complication of high blood sugar levels.

It may cause extreme dehydration, confusion, seizures, and loss of consciousness.
Insulin Pump Failure or Malfunction:
Malfunction of insulin pump leading to incorrect insulin dosing or interruption in insulin delivery.

Resulting in either high or low blood sugar levels and requiring immediate attention.
Inadequate Diabetes Supplies:
Running out of essential diabetes supplies like insulin, glucose testing strips, or insulin pump accessories.

Inability to promptly replace or access necessary supplies.
Uncontrolled Blood Sugar Levels During Illness:
Difficulty in managing blood sugar levels during common illnesses like flu or infections.

Increased risk of complications and the need for medical attention.
Alcohol-Related Blood Sugar Issues:
Alcohol consumption affects blood sugar levels, leading to potential hypo or hyperglycemia.

Increased risk when alcohol consumption is not adequately managed.
Remember, you hold the power to navigate your unique challenges and thrive in your new college environment. Arm yourself with knowledge, be proactive in managing your diabetes, and embrace the support available to you. Whether it's carrying essential diabetes supplies in your insulated backpack, educating your peers about diabetes emergencies, or wearing a life-saving medical ID, every step you take has a positive impact on your overall health and well being.. Prioritize your health and diabetes care, use of all the resources at your disposal. Your college years can be filled with exciting opportunities, personal growth, and unforgettable experiences – and with the right preparation and support, you can make the most of every moment. You've got this – and we're cheering you on every step of the way! Check out more
diabetes management supplies
for your college journey.
---